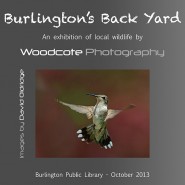 "Burlington's Back Yard" Exhibition – October 2013
Opening at 6:00pm on 2nd October 2013 at Burlington Public Library
This is my exhibition debut, and It was tempting to display an eclectic cross section of work from wildlife to sports, and from portraits to commercial products. However, I felt that there should be an underlying theme which would appeal more to local people. How more local can the subject be than the inhabitants of Burlington's own back yards? It is, in effect, a celebration of what has led Christine and I to set down roots in Burlington, and an endeavor to enhance Burlington residents' appreciation and enjoyment of the natural wonders of their own yards and local woods.
In dismissing a lot of material which has been shot around the world, the images of nature in this exibition were almost entirely shot in Burlington. This collection barely scratches the surface of a catalogue of over 60 local bird species, and countless mammals, reptiles, dragonflies, butterflies, all of which can be regularly found in our back yards. A few random personal indulgences have crept in, but even they still have connections local to New England.
A personal note – extract from the exhibition programme
Firstly, thank you for taking the time and trouble to visit my inaugural exhibition, and there will be no complaint if anything on display inspires you sufficiently that you feel the need to hang it on your own wall.
Secondly, I am grateful to Burlington Public Library for this opportunity to put my work on display,
Finally, I must thank my wife, Christine for her sufferance in bolstering my confidence to embark on this new venture ( the results of which are so much more subjective than in anything in my past career), and my good friends and neighbours for their invaluable encouragement.
Initially my photography was purely to fulfill my own enjoyment, but as time has passed, that goal has altered. I try to view what I do now through the eyes of others, and it is very much my hope that you enjoy the fruits of my labours as much as I have the journey.
I really do appreciate being able to share these images with you and I would value your feedback in the guest book provided.
I look forward to meeting as many of you as possible, either during the course of this exhibition or in the event that you entrust me with a photography project of your own.
Best wishes