Projects
"Art In Nature" photography competition thru August 2017 and covering article in Dorset magazine.
"Monaco Grand Prix 2015" Not so much a project as it was fulfilling a lifelong ambition as photographer and a fan of the sport
"Creatures Great and Small" Opened as resident exhibitor at Francesca's, Collinsville from March 2014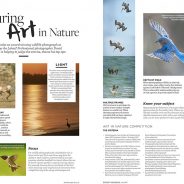 I have been asked to sit on a panel of three judges for a forthcoming wildlife photography competition being organised jointly by Sculpture By The Lakes and Dorset Magazine. Quite an exciting change of perspective for me, and something I am really looking forward to. Following the announcement of this newfound role as an arbiter of all that is wonderful in wildlife photography, I was also asked to prepare an article for Dorset Magazine, to introduce Art in Nature. This has now been published, and provides the details necessary for...
read more