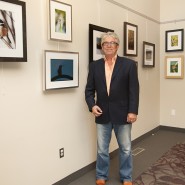 "Burlington's Back Yard" Exhibition – open throughout October
The exhibition opened as planned on Wednesday 2nd October and I was delighted with both the support of bodies arriving to view and the feedback regarding both the exhibits and the presentation. Perhaps what is more rewarding is the fact that people have shown a willingness to spend their children's inheritance on works I have produced. I really do thank you.
The venue is within Burlington Public Library and is thus subject to Library opening hours, alcohol prohibition, and the requisite level of decorum. As planned, Christine and I were delighted to welcome exhibition guests back to our home and round off the occasion.
Now that the festivities are over, the exhibition will continue throughout the month. If you are making a special journey (however short) to view the exhibits I would advise you first to check the Library schedule as the venue is occasionally used for other meetings.
If I can help with any questions concerning the exhibits (or indeed any of my work which you may be interested in) or the services I can provide, please do drop me  an email or give me a call. I live quite close to the venue and would be very happy to arrange to be there when you visit.
I do hope you enjoy what you see there and I would really appreciate your feedback.
Once again thank you so much for the support so many of you are providing.