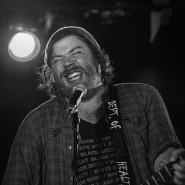 Josh Krajcik – On Tour – Competition Winner
Concert photography is something I really enjoy, but get too little opportunity for.
Recently I travelled to Hamden Connecticut for a performance, by Josh Krajcik, whose music and voice I have been very happily listening to for many months.
I knew not only that the concert would be good on my ears, but also Josh has a character about him which was going to be interesting to capture on camera. What I didn't know was that the lighting in this small venue would be about the most challenging I have worked with. If I stood in front of the stage Josh was but a darkened figure against the back lighting; the audience, by contrast, were lit up like beacons.
Anyway, undeterred, I set about the job as best I could. As it turns out, it was all worthwhile. Despite the adverse conditions, the feedback from Josh's fans was incredibly rewarding, and more importantly 4 of the images from that evening found their way into a competition for photographs taken throughout Josh's US tour, with the winner to be judged by the Man himself in September after the tour had completed.
I am delighted to say that in the final analysis Josh determined that the particular image above was the overall winner. It was actually the first photographic competition of any kind that I had entered, and a win "straight off the bat" was a proud moment.
The whole image can be found in the "Portrait / People" gallery in my Portfolio